Face
the world with confidence
Full, luscious lips denote youthfulness and sensuality, and are coveted by celebrities and ordinary women alike. Unfortunately, like many other areas of the face, the lips begin to lose their volume as we age, growing thin and lusterless. A once beautiful smile can be marred by lips that have lost their definition, causing a patient to feel self-conscious and frustrated with their appearance.
Our NYC lip augmentation is a popular and ultra successful procedure for restoring the plumpness and vitality to the lips, making clients feel sexy again. Treatments range from enlarging the lips through implants, to fat transfers, and the use of dermal fillers such as Restylane and Juvaderm. The key to beautiful, voluminous lips, however, is moderation; over-correction can backfire. Therefore only a talented, experienced surgeon who specializes in facial plastic surgery should undertake the procedure.
Why

should clients choose

ESK

MD
Dr. Kwak is a veteran of anti-aging therapies, and with a double board certification in both facial plastic surgery and otolaryngology, his career-spanning focus on improving the facial features has garnered him an outstanding reputation among his peers and with clients from all over the world. Dr. Kwak's level of precision and meticulous attention to detail elevate his work to the level of cosmetic fine art. Patients seeking lip augmentation need only view his before and after photos to know that they are in remarkable hands.
The first step in lip augmentation is always a confidential consultation with Dr. Kwak in the warmth and comfort of his New York office. The doctor will review your medical history, your prior procedures, if any, and discuss your goals and expectations. Dr. Kwak does not believe in designing a "signature" look or in imitating a certain celebrity's lips that happen to be in vogue; rather he works to achieve an organic aesthetic for your lips that is customized to perfectly suit the rest of your face.
Dr. Kwak is also a master of "revision" lip augmentation in New York City, meaning that he is able to correct the imperfections of previous surgeons, whose subpar work may have resulted in asymmetrical, bumpy, lopsided or overly puckered lips.
Get Started
How
does lip augmentation work?
Eschewing lip implants, Dr. Kwak favors the less invasive, non-surgical approach to a New York lip augmentation facilitated by injectable dermal fillers like Restylane or Juvederm. Both fillers contain hyaluronic acid, a hydrating, volume-enhancing compound found naturally in the body's soft tissue. Although they do not offer permanent augmentation, lip fillers tend to cause less swelling or bruising, and are easier to control since they can be injected incrementally until precise results are achieved.
Patients are given local anesthesia or a numbing gel, after which the doctor will mark the injections sites with a special cosmetic pen. Depending on the amount of plumpness and volume desired, either one syringe or two will then be injected along the vermilion lip border. The needles used are exceptionally thin and painless, and are in and out so quickly that most patients do not even realize the procedure is over. The entire treatment is performed at Dr. Kwak's office, with clients returning to their normal routines the same day.
Benefits
of lip augmentation
The dermal fillers which are used for the lip augmentation treatment offer myriad benefits and positive results for patients, such as:
Fuller and natural-looking lips
A defined shape to the lips
Improved appearance of the face
Absolutely no allergic reaction or bruising
Zero recovery time
Contact us today and schedule a consultation for arguably the best lip augmentation NYC has to offer.
Am I Eligible
for lip augmentation?
Interested patients need to fulfill some basic requirements to qualify for the lip augmentation procedure. Ideal candidates for the treatment are:
People with thin and shapeless lips
People with abnormally shaped lips
People whose gums are exposed constantly, due to thin lips
People unhappy with the shape and size of their lips
Recovery
from lip augmentation
The 3Rs of any cosmetic treatment are risks, recovery, and results. When it comes to the lip augmentation procedure, patients will be happy to note that this treatment is one of the safest and easiest to perform cosmetic treatments available.
Minor bruising, pain, swelling and minor bleeding are common post-procedure. But these will reduce a few hours after the treatment. Pain medication may be provided to you by Dr. Edward Kwak, based on how well you recover. If taken care of, the newly enhanced lips will be infection-free and healthy.
Patients will need to be careful when moving their mouths and performing functions like chewing and talking for a few days after the procedure. Complete recovery takes about a week and it takes another week or two for the results to properly show. The results of the lip augmentation treatment can last up to 6 months. With added care, you can retain the shape and beauty of your lips for an additional 2-3 months.
Doctors in New York City usually suggest a lip implant surgery for permanent lip augmentation. But at our NYC clinic, Dr. Kwak believes it's important to try the dermal fillers first, to check if the lip augmentation will provide the results you seek or not. Dr. Kwak has extensive experience in the field of cosmetic dermatology and he can advise you on the lip augmentation procedure. Contact us to schedule an appointment.
Before & After Lip Injections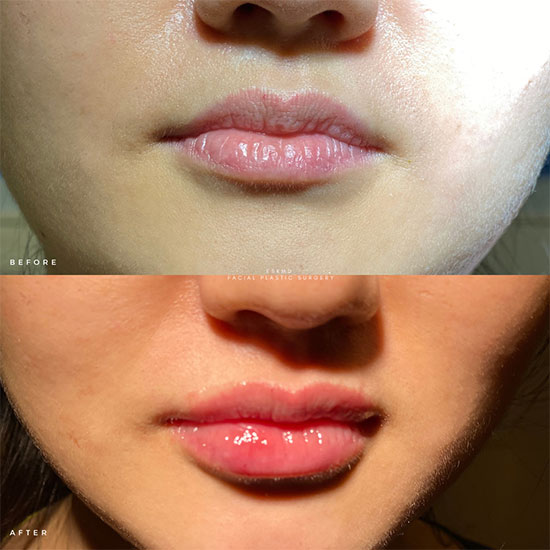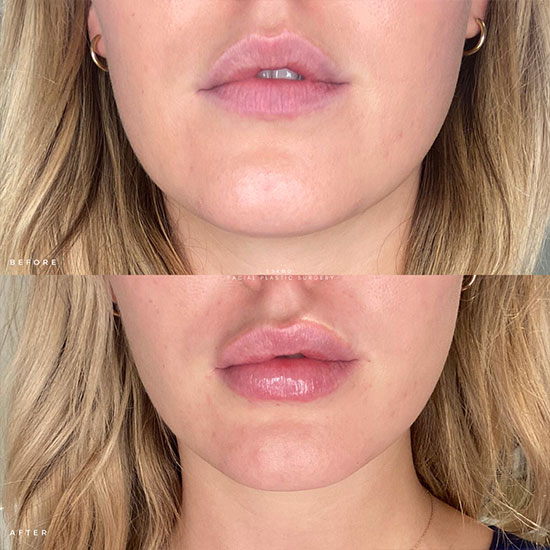 Lip Augmentation is More

Popular Than Ever

If you have the impression that more and more people are receiving cosmetic treatments for their lips these days, you're not imagining it. According to a report from the American Society of Plastic Surgeons, the number of lip augmentations received by persons 18 to 55 years and older increased 50 percent between in the past decade.
Can They Be

Reversed?

Unlike a nose job, lip augmentation is not permanent. If you're not pleased with the way you look, you won't have to live with it forever. Over time, the fillers are slowly shed by the body. For exceptional results that appear natural, it is imperative that your lip enhancement procedure is performed by a skilled professional – you want your lips to look full and attractive, not overfilled and odd. An injection can be used to reverse the results of some lip fillers.
Low Risk,
But Not No Risk
Lip augmentation is not associated with any serious medical risks, but health risks are not the only risks you may want to consider. Although lip augmentation is a temporary solution, it's not easy to hide your mouth during a normal day at work or play. Never take a chance with lip augmentation – ensure you have the treatment from a highly-skilled professional who performs the augmentation with great care and is recognized for his ability to create truly natural-looking results. For patients in New York, there's no better choice than Dr. Kwak.
Cost
of Lip Augmentation
Over time, our lips may become thin and hollow, necessitating in enhancement. The lip augmentation treatment is a minimally-invasive, non-surgical treatment that is extremely helpful in improving the shape and structure of the lips.
A conventional lip augmentation procedure can cost anywhere between $500 and $2,000 per session depending on the following factors:
Number of sessions needed
Extensiveness of the treatment
Clinic visited
Experience and skill of the doctor
Type and quantity of dermal fillers used
At our New York ESK MD center, we use both the Restylane and Juvederm dermal fillers, in addition to silicone injections to perform the treatment. We accept medical insurance from all major providers. If you'd like to know more about our financing options, feel free to contact a member of our team.
Lip Augmentation Q&A
How to Avoid Duck Lips?
Q: What lip injection method/technique gives real natural appearing lips (that are full)??
A: Avoid "done" lips. One tell-tale sign of obivious work done is a bad upper lip augmentation. Traditionally, a bad lip augmentation has this "ducky" look to the upper lip.
What causes this look? I feel is it a not paying attention to facial aesthetic and creating facial harmony.
The "ducky" lips appear so for several reasons. The major reason is because the upper lip projects too far from the face and lower lip. Facial aesthetics guidelines suggest the ideal upper lip position should be slightly more projected from the lower lip, which is slightly more projected than the chin.
Another reason lips may look "done," is inappropriately adding volume to the lips in wrong places. Frequently, lips are injected with synthetic gels (Restylane is a popular example). This gel should be evenly distributed throughout the upper lip. Injecting too much material at the junction of the true lip and skin can create a "ducky" appearance to the lip.
In general, I would agree with the other surgeons on the recommendation in using temporary injectables first before using a more permanent material. Consult your local facial plastic surgeon to learn more.