Face
the world with confidence

The face is the most expressive area of body, allowing us to convey joy, laughter, surprise and sadness, and to connect to others on a daily basis. Through a variety of procedures including rhinoplasty, facelifts and non-surgical fillers, the facial contour and appearance can be greatly enhanced, boosting confidence and allowing you to put your best face forward. Choosing the right surgeon for arguably the best nose surgery NYC has to offer has never been easier. Patients can rely on Dr. Edward Kwak to experience amazing life-changing results.
New York's Premier
Facial Plastic Surgeon
Contact
737 Park Avenue, Unit 1D New York, New York 10021
Phone: (212) 229-1100
Gallery
Browse our before and after gallery, gaining a better understanding of the results available from ESK and see why many patients believe Dr. Edward Kwak delivers the best Rhinoplasty in New York.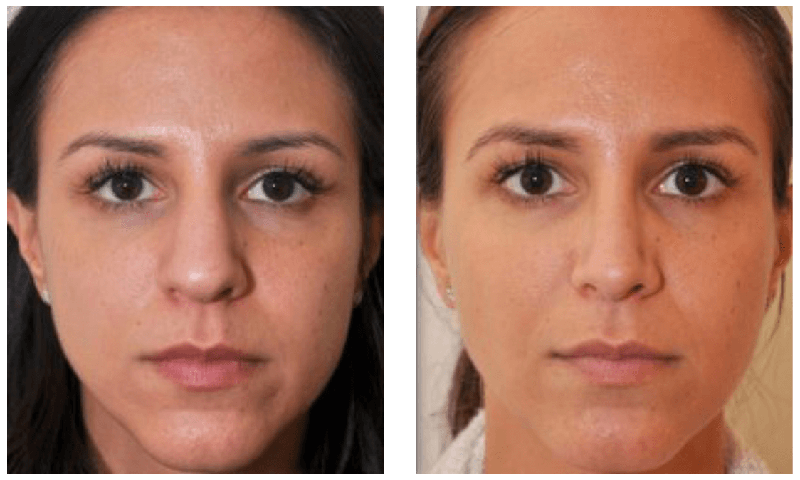 ---
Explore
Dr. Edward S. Kwak
Dr. Kwak has spent his entire career focusing his talents on the human face and neck, producing exquisite outcomes time and time again. In the realm of facial plastic surgery, it is imperative to choose a NYC facial plastic surgeon that specializes in the delicate, highly intricate procedures such as rhinoplasty, revision rhinoplasty, blepharoplasty, facelift and hair transplants, as these areas require unparalleled precision as well as the astute eye of a seasoned artist. In Dr. Edward Kwak, patients have found this elusive, winning combination.
New York residents have been coming to Dr. Kwak for some of the finest rhinoplasty results. His specialized education & training was highly focused on the nose, allowing him to garner his reputation as arguably the best rhinoplasty surgeon NYC has to offer. In addition, having a practice in New York has exposed him to several different types of people with varying ethnic backgrounds. His experience with a diverse clientele has given him additional experience with advanced rhinoplasty techniques that work to maintain distinct shapes & contours of the nose, depending on your ethnic background. No two noses are the same, so there is absolutely no reason to treat its cosmetic transformation as such. If you are looking for a seasoned professional that understands the importance of maintaining these stylistic nuances, be sure to schedule a consultation with a NYC surgeon who has experience with performing high-quality ethnic rhinoplasty procedures, like Dr. Kwak.
What is a Rhinoplasty?
Rhinoplasty, also known as a nose job, can bring harmony to your facial features by adjusting the structure or symmetry of your nose.
Benefits
of Rhinoplasty
There are many benefits to improving the aesthetic or structural imbalances of your nose. An unflattering nose can be distracting to others or can make you look older than you are, but restoring facial harmony can boost your self-confidence.
A deviated septum results in tissue obstructions that can impact your ability to breathe easily, sleep soundly, and stay healthy. Rhinoplasty can help your nose drain properly, reducing the risk of sinus infections and colds. Removing obstructions can help you breathe easier throughout the day and alleviate symptoms of sleep apnea -- a dangerous sleep disorder.
Improved circulation of oxygen can help you look and feel better. You may notice that you think more clearly and feel energized throughout the day. You will also look well-rested and vibrant after better sleep and increased circulation of oxygen to your skin.
How
Does Rhinoplasty Work?
There are two types of rhinoplasty: open and closed. Open rhinoplasty is performed using a small, discreet incision on the underside of your nose in between your nostrils. Incisions are completely concealed within the nose during a closed technique.
Dr. Kwak will then reshape the cartilage and bone in the nose to make the necessary changes to the bridge, tip, and nostrils. Cartilage grafts can be used to add volume where necessary. The septum is also straightened and obstructions are removed. After all changes have been made, the skin is gently re-draped and the incision is closed.
After
a Rhinoplasty
Rhinoplasty is an outpatient procedure, so you can return home the same day. Initial recovery is expected to take one to two weeks. The delicate, precise surgical techniques used during the procedure result in virtually undetectable scars. Your nose will look natural and blend in with the rest of your features in perfect harmony. Whether you have trouble breathing due to a deviated septum or simply don't like the shape of your nose, rhinoplasty with Dr. Kwak can help. Schedule a consultation today for arguably the best rhinoplasty NYC has to offer.
Why
Choose Dr. Kwak
It's hard to overstate the importance of choosing the right surgeon for your rhinoplasty. Any surgery can involve risk, but in the case of cosmetic procedures, the risks go beyond the usual medical issues. You are choosing to have this procedure for aesthetic purposes and it's possible for a surgeon to do a perfectly safe, workmanlike job and still fall far short of your goals. While it can be possible to correct a procedure that failed to meet your expectations, this is not a road you want to travel. Patients seeking a rhinoplasty surgeon in New York can have full confidence that Dr. Edward Kwak can execute their rhinoplasty to the highest standard, providing an ideal combination of technical skill and artistry.
Certification
Dr. Kwak is certified by both the American Board of Facial Plastic and Reconstructive Surgery and the American Board of Otolaryngology. His skill in rhinoplasty procedures has attracted international attention. A lifelong learner and teacher, Dr. Kwak regularly lectures on rhinoplasty techniques, and contributes to books, blogs and articles on the subject. He is a Clinical Assistant Professor at the Icahn School of Medicine at Mt. Sinai in New York. In addition to his work as an educator, Dr. Kwak is a partner with Faces of Honor. This program, which is sponsored by the American Academy of Facial Plastic and Reconstructive Surgery, he provides services to injured veterans at no cost. If you have committed to taking this life-changing step, make sure that it brings you all the confidence and joy in life that you envision for your future. In Dr. Kwak, you'll find the rare combination of compassion, an artist's attention to detail and the experience necessary to bring your vision to life.
Asian
cosmetic procedures
One of the nation's top specialists in Asian cosmetic surgery
Facial reconstruction is a delicate, intricate procedure that requires ingenuity and vast expertise. At ESK, patients can rest assured that they are in the hands of among the best facial plastic surgeons Manhattan has available. From congenital defects to fractures that can affect eating, sleeping, breathing and even speaking, Dr. Kwak has a track record of excellence evidenced by his stunning patient results. Asian patients can enjoy some of Dr. Kwak's most sought-after procedures like his double eyelid enhancement, Asian rhinoplasty or Asian ptosis procedures available to NYC patients with Asian backgrounds.
Our Surgical Center
Our NYC facial plastic surgeon, Dr. Edward Kwak, performs head and neck procedures in our upscale, private, state-of-the-art surgical center. Our patients can avoid the discomfort of having a procedure in an impersonal, busy hospital environment, as well as the added costs. Our surgical center is fully accredited by the AAAASF, meeting all safety and health standards as required. Fully-equipped with the most advanced equipment, and comfortably appointed for patient comfort, our private surgical center sets the standard.
Surgical Center
Coolsculpting
Are you tired of stubborn fat that just won't shed? Look into Coolsculpting, the non-invasive, relaxing one-hour treatment that will freeze away the last few pounds you've been working so hard to lose! It's important to understand every detail of any medical procedure, so read more about our Coolsculpting procedure available at our New York medical suite.
CoolSculpting
Come explore your options